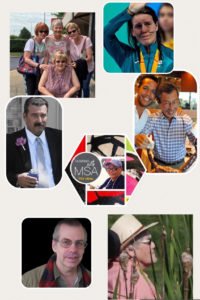 FOR IMMEDIATE RELEASE
DATE: September 8, 2017
FROM: Philip Fortier, Director
CONTACT: EMAIL: defeatmsa@gmail.com; TEL: 586.246.1475
Defeat MSA's Board of Directors is pleased to announce the creation of six new Legacy Grants to help fund the charity's three tiered objectives: medical education, patient support and promising scientific research.
Five of the six legacy grants are named for individuals living with MSA, including Mayo physician Dr. Siong-Chi Lin, St. Louis Artist Rey Umali, MSA patient advocate Charlene Soleau, World Paralympian Susana Schnarndorf and Michigan businessman Mike Boylan.
The sixth legacy grant is named for Joe Fortier, who succumbed to MSA in 2013. For more than 25 years, Joe managed several sleep disorder clinics and worked in sleep related research.
Four of the new individually named legacy grants have already surpassed their initial funding goals.  For more information on any of these new grants, please visit Defeat MSA's legacy grant page.  If you are interested in establishing a legacy grant named for a specific individual, please email us: defeatmsa@gmail.com
The legacy grant program is a great way to honor a remarkable individual while also helping to establish funding criteria, earmarking your donation and connecting to the grant recipient(s).
Our Need is Dire, Our Cause is Urgent and Our Fight is Just Beginning! 

Awareness. Alleviation. Advancement.
Defeat MSA, 29924 Jefferson Ave, Saint Clair Shores, Michigan 48082
Defeat MSA is a tax-exempt 501(c)(3) nonprofit organization.
#kickmsa #defeatmsa #defeatmsafdn #msa #multiplesystematrophy